Plus more herbal medicine in the Nettlejuice Shop!
My CBD products are handcrafted from whole plants using local, organically grown, high CBD (low THC) plants. The end of season sale continues for these products while supplies last. But I can't list them in the etsy shop, so to order, please email me directly and I'll send you an invoice (or arrange for pick-up at my social distancing medicine pick-up box). Here's what is in stock…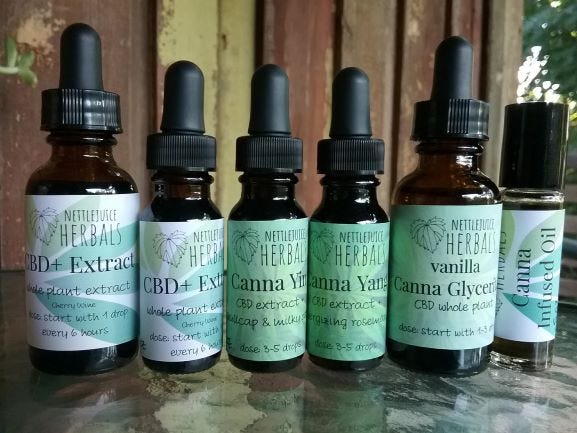 Canna Yin: 1/2 oz bottle (a combination of cannabis, milky oats, and skullcap for a relaxing nervine effect)
Canna Yang: 1/2 bottle (cannabis plus rosemary soxhlet extract for an uplifting and energizing effect)
CBD+: 1/2 oz and 1-ounce bottles (straight whole-plant cannabis extract), alcohol extract
Vanilla Canna Glycerite: 1 oz bottle (cannabis and vanilla extracted into vegetable glycerine for a sweet, tasty extract). Glycerites are only about 1/3 as strong as alcohol extracts, so dosage will need to be higher.
Canna Infused Oil: small roller bottle of cannabis-infused MTC coconut oil for external use
Prices:
All 1/2 oz bottles are $20 (regularly $25)
1-ounce CBD+ bottles are $40 (regularly $45)
1 oz glycerites are $35 (regularly $45)
Canna oil roller bottles are $15 (regularly $20)
Dosage for most people is between 3 and 5 drops (a little higher for the glycerite).
To order, send an email to nettlejuice@gmail.com. I'll send you an invoice for your order.
---
Be sure to check the Nettlejuice Shop for more hand-crafted herbal medicine…
Like my Immune Plus Immune Booster Formula…
Echinacea root, baical skullcap, astragalus, rhodiola, and propolis combine for a daily tonic to strengthen our defenses as we move into cold and flu season.
And don't miss seasonal items like…
Goddess Rising Elixir: A yummy blend of rose, tulsi, sage, damiana, and cacao to nourish the wild women in all of us.
Or my Roots Syrup Fall Tonic!
I make this syrup every autumn as a strengthening tonic to nourish us as we prepare for the seasonal changes. Ingredients include roasted dandelion root, burdock root, shatavari, ashwagandha, milky oats, chaga, cardamom, and licorice.
---
Stay tuned for Elderberry Syrup hitting the Nettlejuice Shop next week, along with announcements about upcoming classes.
Stay well, and make good medicine.